St. James' Anglican Church Ingersoll
Celebrating Over  180 Years of Service & Worship in Ingersoll Ontario

Click on map to locate church map.

Click on the picture above to read our church newsletter "The Loop" for March and April 2017 edition.
May & June edition will be posted in May.

Weekly Services

 
Sundays : 10:30 AM - Holy Eucharist (Book of Alternative Services)
Second Sunday of Each Month - 8:00 AM Holy Eucharist followed by Breakfast
Wednesdays : 10:00 AM Holy Eucharist (Book of Common Prayer)
Parish Priest : The Reverend Meghan Nicholls
            Email : stjamesrector@execulink.com
Church phone - 519- 485-0385

Fax - 519- 485-5 184

Oxford Street Ingersoll ON N5C 2V7
Email : stjamesoffice@execulink.com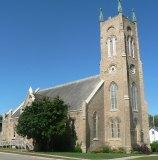 **  Our newest photo album from The Marie Bottrell Show  held in October has now been posted on our Photo Albums page.